Engelhart Hall
1915 Maple Avenue
Evanston, IL 60201
Located on the northeast corner of Maple Avenue and Emerson Street.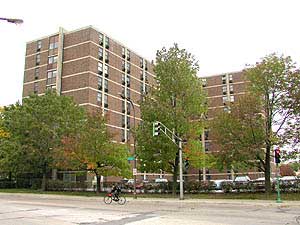 Notes
Graduate student housing
History
Dedicated in 1971, Frank C. Engelhart Graduate Residence Hall was built to house 550 graduate students and their families in 249 living suites. Engelhart Hall was named in honor of Frank C. Engelhart, former president of Kester Solder Co. and a longtime Evanston resident. In addition to contributing to the construction of the residence hall, Mr Engelhart donated $4.1 million toward the construction of University Library, whose North Tower is named in his honor.
Departments in this building
For a list of all University departments see the Office Directory