McManus Center
1725 Orrington Avenue
Evanston, IL 60201
Located along Orrington Avenue across the street from the Hilton Orrington Evanston.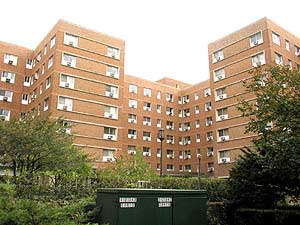 Notes
Graduate student housing
History
Opened in 1947 as the Northwestern Apartments for faculty and married students in response to the GI Bill-generated enrollment surge following World War II, the seven-story structure contained 208 living units and a 110-car garage. Designed by Holabird, Root, and Burgee and constructed of brick with a limestone trim. McManus cost $3 million to build. It was one of the first buildings to have a "garden roof," a grass lawn covering the top of the garage.
Departments in this building
For a list of all University departments see the Office Directory