Ayers College of Commerce & Industry
2324 Campus Drive
Evanston, IL 60201
Located on Campus Drive directly south of Kemper Residence Hall.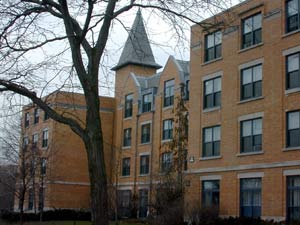 Notes
Formerly 2319 Sheridan Road
History
Thomas G. Ayers Residential College of Commerce and Industry (ACCI) was dedicated in the fall of 1995. The building houses 170 students, most of them in double rooms. ACCI was built through gifts from General Dynamics Corporation and other companies and friends in honor of Thomas G. Ayers. Mr. Ayers became a member of Northwestern's Board of Trustees in 1966 and served as president from 1975 to 1986. The College of Commerce and Industry had its roots in the mid-1970s. Then it was known as the Programmatic College of Commerce and Industry, a nonresidential college created through the efforts of various fraternity and sorority members.